When it comes to sports and cheerleading, having the right gear and accessories is key. One item that is a must-have for every cheerleader is a cheer bag. And what could be better than having a premium and convenient cheer bag that is custom-made just for you?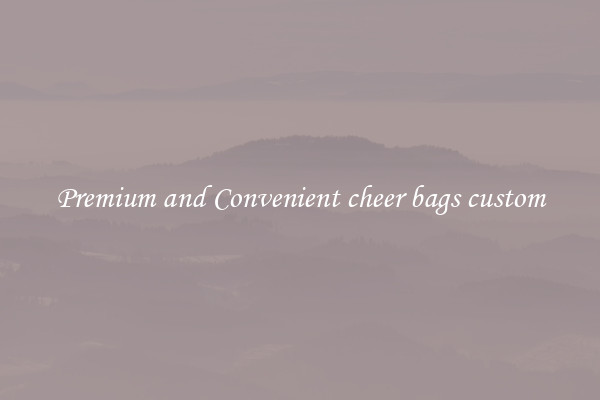 Premium cheer bags are designed with utmost attention to detail and superior craftsmanship. They are made from high-quality materials that are both durable and stylish. Whether you prefer a traditional duffle-style bag or a backpack, premium cheer bags are available in various designs and sizes to suit your needs.
One of the key advantages of a custom cheer bag is that you can personalize it with your name, team logo, or any other design that represents your spirit and enthusiasm. This not only adds a touch of uniqueness but also helps you identify your bag easily in a sea of other cheer bags. Plus, it instills a sense of pride and belonging among team members.
Convenience is another important factor to consider when it comes to cheer bags. Premium bags typically feature multiple compartments and pockets to help you stay organized. They have dedicated spaces for your shoes, pom-poms, water bottle, and other essential items. Additionally, some bags even come with separate wet/dry compartments, keeping sweaty uniforms or wet towels separate from the rest of your gear.
Furthermore, premium cheer bags are designed with comfort in mind. Adjustable shoulder straps, padded back panels, and ergonomic handles ensure that carrying your bag doesn't become a burden, especially during long trips or after intense practices. You can focus on perfecting your routines without worrying about the discomfort caused by an inadequate bag.
The durability of premium cheer bags ensures their longevity, allowing you to use them season after season. Reinforced stitching, sturdy zippers, and water-resistant materials ensure that your bag can withstand the rigors of cheerleading practice and competitions. Investing in a high-quality bag guarantees that it will last for years, saving you from the hassle and expense of having to replace it frequently.
In conclusion, having a premium and convenient cheer bag custom-made to your specifications is an excellent investment for any cheerleader. These bags not only offer superior quality and durability but also provide the convenience and functionality necessary to keep your gear organized. Moreover, the customization options enable you to showcase your team spirit and individuality. So, why settle for a generic cheer bag when you can have one that is designed just for you? Upgrade to a premium and convenient cheer bag today and elevate your cheerleading experience to a whole new level.